Child Care Services Meeting the Needs of Your Child
Provide your child with quality education at our child care center in Minnetonka, MN. We offer a warm, caring environment for infants and toddlers, ensuring they have the opportunity to grow. Each of our programs is designed to deliver an enriching experience that is sure to help your child learn in new and unique ways.
At Orchard Park Child Care, we're dedicated to the education of your children. We understand that you want the best for them, which is why we incorporate a variety of teaching strategies that utilize guided play and interactive learning. Our cozy and welcoming atmosphere can become your child's home away from home.
Dedicated to Every Child's Success
As we work with your child, we'll identify their unique strengths and build upon them. From our "bed and breakfast" infant area to the toddlers' collaborative learning space, we ensure the ideal education and care for every student. Our goal is to provide optimal child care services that encourage growth.
When you want the best for your child, you can count on our facility, where we commit ourselves to your child. We work closely with parents to determine the ideal program and tuition for your situation so that your child receives the education they deserve. As the premier child care center, we strive to offer programs that fit your schedule and budget.
The Ideal Learning Center
Our facility provides unparalleled child care services, dedicated staff, and a fun, safe learning environment. Visit our center and see for yourself how we help children grow. Parents throughout the community trust us to educate their children, ensuring their complete success. We seek to maintain that reputation and invite you to tour the facility so that you can discover why we're the ideal location for your child.
With so many options for child care centers, it just makes sense to enroll your child in one of the many programs available at Orchard Park Child Care. Our classrooms are designed to accommodate infants, toddlers, and preschool-aged children. This tiered approach to learning ensures your child receives the attention and supervision they require.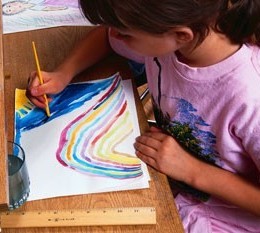 The Learning Environment Providing Love, Play & Education